Search engine optimization has been made easy with Traffic Travis 4.0 software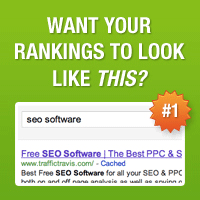 Traffic Travis, makers of the most popular free search engine optimization (SEO) software on CNET.com, are proud to announce their latest software, Traffic Travis Version 4.
Traffic Travis Version 4 is a combined SEO and Pay Per Click (PPC) tool that equips webmasters with the knowledge they need to get targeted traffic to their websites.
Traffic Travis Professional SEO Software
The professional grade software replaces Traffic Travis Version 3 on the market, and encompasses a number of innovative new features and improvements highly valued by Traffic Travis users.
New features include support for Unicode, sophisticated data filters, and domain research, link finder and AdSense tools. These features are in addition to the array of pertinent data tools that provide insight into website backlinks, on-page optimization, and everything in between.
Notable advancements in the software include improvements to the keyword research and backlinks tools that return more accurate data, faster. Traffic Travis Version 4 now uses data from Majestic SEO and SEOMoz, the most accurate source of backlinks data.
Attention has also been paid to improving usability of the software: Users can now see an overview of their project data at a glance from the dashboard tab; Multiple projects can be created and are integrated across all functions of the software, streamlining data retrieval and analysis for the user.
Nick Fauchelle, the Head Developer of Traffic Travis, says "in designing and building Traffic Travis Version 4 we've paid particular attention to what our current Traffic Travis users love, and what they are missing. The end result enhances the already loved and combines it with the most sought after data."
SEO is a rapidly evolving practice that continues to grow in popularity as more webmasters realize just how lucrative successful search engine optimization can be for their website. Done right, a highly optimized website will cash in on highly targeted traffic at a minimal expense to the business owners.
Traffic Travis Version 4 is currently available at a price of $97, and the free edition of Traffic Travis (Version 3) is also available. More information can be found by visiting http://www.traffictravis.com/professional.

Want to achieve top-10 rankings in Google, Yahoo, MSN and Altavista? Grab your FREE ticket to search engine and Adwords domination now! TrafficTravis.com